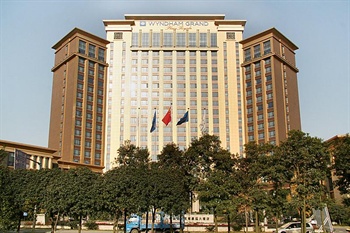 The Wyndham Grand Plaza Royale Palace (Tianzhifu Wendemu Zhizun Haoting Dajiudian) is located in Chengdu's industrial harbor area. It is just a 5-minute drive from Qingcheng Mountain, a 30-minute drive from Shuangliu International Airport and a 45-minute drive from the downtown area.
This Chengdu hotel features fully-equipped, spacious guestrooms and suites, all of which are decorated in a classic style in neutral tones with flashes of color.
The on-site restaurant offers buffet meals and dim sum all day long. The Wangfu Chinese Restaurant hosts 32 private dining rooms and specializes in Sichuan and Cantonese cuisines. The Songwu Japanese Restaurant includes teppanyaki as well as a sake and sushi bar. Guests organizing private gatherings can make use of the restaurant's two tatami rooms and private teppanyaki room.
The huge banquet hall here accommodates as many as 800 guests, while the hotel's 13 meeting rooms are all equipped with advanced facilities. The Wyndham's professional meeting planners are available to help guests plan every detail of their event.
During leisure time, guests can take advantage of the hotel fitness center, indoor swimming pool and KTV club.